How do you peer into the brains of consumers in an attempt to figure out what makes them buy something? It's happening today, and it's called neuromarketing.
Companies spend tens of thousands of dollars to hook people up to machines and watch their brains light up while watching ads, playing video games, and consuming content. They then take the insights they gain from these studies and update product packaging, change their ads, create new products, and get us to buy more stuff.
Neuromarketing may sounds like science fiction, but it's very real and something business owners can take advantage of today.
Basically neuromarketing comes down to one thing – attempting to determine why consumers make the choices they do. To do that, researchers use,
… technologies such as functional magnetic resonance imaging (fMRI) to measure changes in activity in parts of the brain, electroencephalography (EEG) and Steady state topography (SST) to measure activity in specific regional spectra of the brain response, and/or sensors to measure changes in one's physiological state (heart rate, respiratory rate, galvanic skin response) to learn why consumers make the decisions they do, and what part of the brain is telling them to do it.
Thank you Wikipedia!
But don't let all that scare you away (if you're still reading). A small business can leverage the results of these very expensive studies without having to lay down the cash to perform their own.
Thankfully we have someone that's made all that geekery available to us in a highly actionable format – Roger Dooley.
I've been reading Roger's blog for months and was excited when he announced the impending release of his book – Brainfluence.
I purchased it for Kindle as soon as it came out and it's at the top of my "must read" list. I caught up with Roger to record this video where he talks very specifically about how small businesses can use neuromarketing to attract and convert more ideal customers.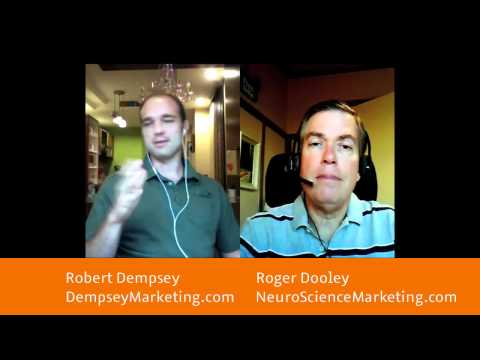 I highly recommend you pick up a copy of Brainfluence and read it cover to cover. Also be sure to subscribe to Roger's blog as he continues to provide actionable insights from the field of neuroscience. I promise you won't need a science degree to understand it.